3.
An Influx-loss detection (ILD) module (or early kick detection, EKD) that can also be run independently on conventional (non-MPD) drilling jobs. The ILD system is a model-based algorithm that provides robust measurements of the dynamic mass balance of the closed-loop circulation system. This provides higher certainty of detection, as well as unique capabilities to detect during transients.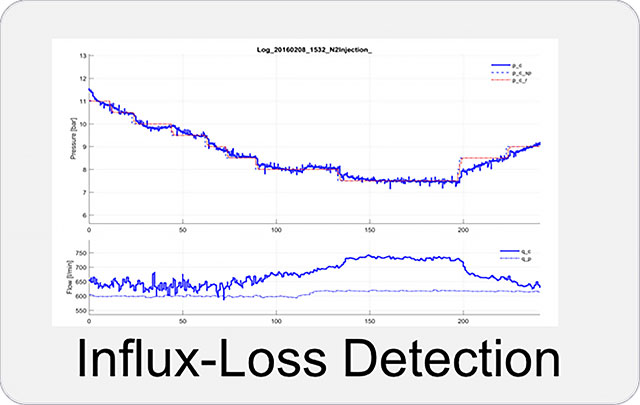 In particular:
Detection in flow transients, such as ramp-down in connections.
Detection in case of surge & swab effects, i.e. enables detection of kicks while tripping out, and losses while tripping in.
Detection during pressure set-point changes in MPD operations.
The system includes automatic calibration of important model parameters and sensors such as measurement offsets, fluid compressibility (bulk modulus) estimation, rig pump (efficiency) characterization and calibrating ultrasonic clamp-on meters. This removes the need for expert calibration of the system, making it easier to operate.
ADA can also design and install MPD control and/or early kick detection systems for use on existing and new-build drilling rigs. Please contact an ADA representative.